Add to Favorites
RANGERS LEAD THE WAY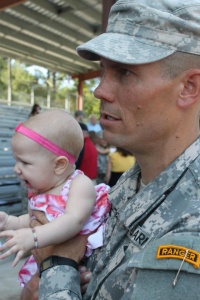 There is no better reeducation camp than parenthood. Each day my daughter frighteningly reminds me of her own prowess and my own ineptitude: like I went in looking for a kitten and came out with a tiger. She wields more power and potential in her pinky toe than I could ever muster, and still, I catch myself saying stupid things like, "You hit like a girl."
Three years ago, I was at Fort Benning to see my brother Capt. Will Neves graduate from Ranger School. The ceremony was a chilling demonstration of the force Rangers routinely rain down on our enemies. I left feeling small.
Today, First Lt. Shayne Haver and Capt. Kristen Griest became the first women to receive the coveted black-and-gold Ranger tab. Now, everyone wants to know what it all means. Some want significance; others want an asterisk. I am left feeling ashamed that there are still those who would denigrate this achievement because they are women. First Lt. Haver and Capt. Griest belong to the 0.5% of Americans who serve in the military and now to the 3% in the Army, and as the only two women, who can wear the Ranger tab. As my brother put it to me, "These girls are legit. If you've never attempted Ranger School or you don't wear the tab, you are not allowed to speculate or pass judgment on the women who volunteer or the difficultly of the course."
There are yet other women in various stages of Ranger School, and before long they will obtain their Ranger tabs too. Still others will complete Navy Seal training. My daughter and I will celebrate each time. And eventually, they will take off their uniforms and become employees, managers, officers, directors, wives, and mothers. George Washington said, "When we assume the Soldier, we did not lay aside the Citizen." What crazy person is going to tell these ladies that they don't measure up to their male counterpart? Today's milestone is bigger than redefining combat roles for women, it makes it more likely that my daughter will realize her full potential—whatever that may be. And for that, I say thank you for leading the way.
(U.S. Army photo by Sgt. Paul Sale)
Categories
Archive

RSS Feed