Add to Favorites
SAYING GOODBYE TO OLD FRIENDS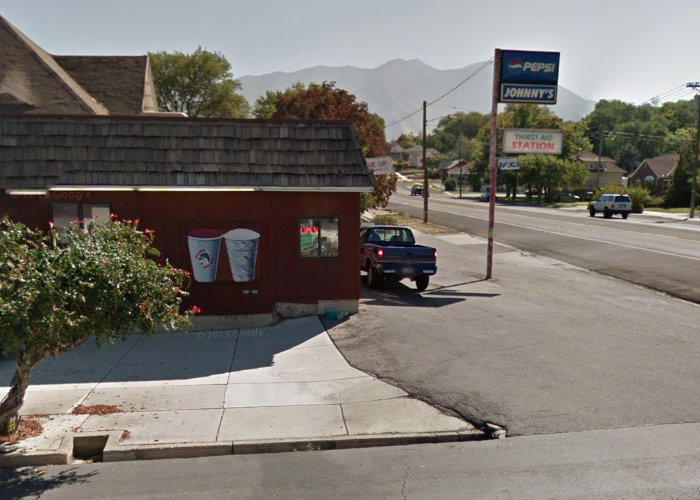 I nearly cried as I drove past Johnny's—the same corner market that I had been going to for thirty years—now converted into one of those trendy soda shops. Everything had changed: drive-up traffic orientation was now 90° weird, brown replaced with striped turquoise, and (no doubt) penny candy racks inside replaced with bright-colored benches. I had gone there for a drink and some penny candy but no more. The transformation was inevitable—I had known about it for some time—but there was no way it was going to happen. But now, there was nothing to do but drive to the other side of town (the line of cars was down the block).
Before they died, my grandma and grandpa lived in the small white house next to Johnny's. One of the only articulable memories I have of my grandma (I was maybe four or five at the time) is of her fishing change from her purse for me to spend at Johnny's when penny candy really cost just 1¢. Consequently, Johnny's and I share a special relationship, albeit lopsided, reinforced by the memory of Grandma. Of course, my memory of her won't fade simply because Johnny's is called by another name. What bothers me most is the exclusive club I once belonged to is gone, and I feel abandoned.
After getting my drink somewhere else, I began thinking about business succession. Somewhere around 50% of the U.S. gross domestic product is generated by family-owned businesses, and less than 1/3 of family businesses survive to the next generation. As unavoidable as death, entrepreneurs inevitably reach that tipping point where key personnel, i.e., founders, fly off for greener pastures. Coincidentally, my own parents are going through the business succession planning process as they consider transferring ownership of the company they built to my older brothers. It has been a very challenging process.
Family relationships are more complicated than ever before, and lack of experience, aptitude, and interest of upcoming managers form hurdles to viable succession plans. However, careful planning can avoid these traps. Successful planning requires five steps: 1) identify objectives; 2) establish decision-making procedure; 3) establish succession plan; 4) create owner estate plan; and 5) create transition plan.1

Identify Objectives. Start by identifying the objectives of the business; for example, where will the business be in twenty years? Then, decide what involvement family will play or whether to bring in outside management. And, don't move forward without professional tax and legal advice.
Establish Decision-Making Procedure. If family is to be involved to the planning process, establish in writing the decision-making hierarchy and method for dispute resolution. Communicate the succession plan to all family members and other interested parties.
Establish Succession Plan. Identify owners, managers, and support staff for the business, and assign roles for active and non-active family members.
Create Owner Estate Plan. Protect the succession plan with comprehensive arrangements for the distribution of owner's estate that minimizes delays, taxes, and other expenses. Anticipate tax implications to the owner or the business in the event of owner's death, divorce, disability or if the business is to be sold. Last, execute buy/sell agreements reinforced with life insurance to protect business against unforeseen events.
Create Transition Plan. Decide the mechanism of business transfer, e.g., outright family purchase, discounted family purchase, third-party purchase, gift or bequest, or some combination. Consider whether retiring owner will offer seller financing or require outside financing. Finally, create a timeline with achievable benchmarks for the execution of the succession plan.
On its face, the list seems incomplete. It leaves out the most important and overlooked part—the customer! No one asked for my opinion when Johnny's began considering a change from penny candy to sugar cookies, but then again, Johnny's didn't share my sentimental attachment. Turns out successful entrepreneurs got that way by listening to the needs and wants of their customers. And, any amount of business succession planning is a nod to that loyal customer base. The memories of my grandma are better served by the passing of the store to new like-minded owners rather than left to the devices of death, tax, and greed. So, Johnny's move isn't so sad and certainly not selfish after all as demonstrated by the long line of cars I saw waiting to buy a Dirty Dr. Pepper—the thoughtfulness of Johnny's succession planning will be told by the next generation of customers.
1. Modified from Michael Evans, 5 Steps to Create A Viable Succession Plan For Your Business, Forbes (Aug. 28, 2013, 1:22 PM), http://www.forbes.com/sites/allbusiness/2013/08/28/5-steps-to-create-a-viable-succession-plan-for-your-family-business/.
Categories
Archive

RSS Feed